CJV30 Serie
CJV30 serie solvent printer snijplotter (Print & Cut)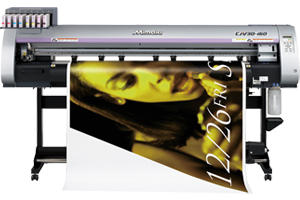 Mimaki biedt een unieke reeks geïntegreerde print en snij-oplossingen, die klanten meer keuze en flexibiliteit verschaffen. Van copyshops en retailers tot grote printbedrijven en signmakers; met zijn 4 formaten (60cm, 100cm, 130cm and 160cm) biedt de CJV30 series voor iedere eindgebruiker een complete en hoogwaardige print en snij-oplossing.
The Mimaki CJV30 series delivers •••
Maximale printsnelheid 17.3 m2/h (11.7 m2/h, 540 x 1,080 dpi, 4 kleuren)
Tot 1440 dpi variabele dot printen voor de hoogste kwaliteit
Continu onbemand printen en snijden met de Automatic Media Clamp functie en Uninterupted Ink Supply System (UISS)
De Continuous Crop Mark functie voor accuraat contoursnijden van stickers, etiketten, etc.
Sneldrogende solvent SS21 inkt, inclusief witte inkt voor een uitgebreidere reeks toepassingen
Inclusief Mimaki RIP en plug-in snijsoftware




Toepassingen
Toepassingen van de CJV Series
CJV30-60
Hoge kwaliteit stickers en labels/etiketten, A1 posters, promotionele prints en POS displays, transfer voor T-shirt bedrukking en meer.
CJV30-100
A0/A1 posters, POP displays, stickers, etiketten en labels van hoge kwaliteit, transfer voor T-shirt bedrukking en meer..
CJV30-130 / CJV30-160
Grootformaat signs en reclame-uitingen, zoals grote posters, voertuig belettering, POP displays, backlit, raamdecoratie, vloersigns en meer.


Waar kan op geprint worden?
Vinyl, banner, canvas, (blueback) papier, solvent hitte transfer media, en meer.
Specificaties
Specificaties van de CJV30 Serie
Maximum print/cut width
CJV30-60 : 61 cm
CJV30-100 : 102 cm
CJV30-130 : 136.1 cm
CJV30-160 : 161 cm
Printing resolutions
540, 720, 1440 dpi
Ink type
Solvent ink: SS21, ES3 ink
Ink capacity
4-colour mode: 440 cc x 2 = 880 cc per colour
6-colour mode: 440 cc x 1 = 440 cc per colour
Media Size
CJV30-60 : 62 cm
CJV30-100 : 103 cm
CJV30-130 : 137.1 cm
CJV30-160 : 162 cm
Roll weight
Less than 25 kg
Roll inside diameter
2 or 3 inch
Maximum cutting speed
30 cm/s
Media heater
Pre/print/post heater
Interface
USB 2.0
Power
AC100V-240V, less than 1380 VA
Dimensies (w x d x h)
CJV30-60 : 152.4 cm x 73.9 cm x 142.4 cm
CJV30-100 : 193.4 cm x 73.9 cm x 142.4 cm
CJV30-130 : 228.9 cm x 73.9 cm x 142.4 cm
CJV30-160 : 253.8 cm x 73.9 cm x 142.4 cm
Gewicht
CJV30-60 : 110 kg
CJV30-100 : 130 kg
CJV30-130 : 145 kg
CJV30-160 : 160 kg
Features
Eigenschappen van de CJV30 Series
Hoge snelheid voor snelle oplevering
De CJV30 kan tot 17.3 m2/h (540 x 720dpi) printen. In standaard mode print de CJV30 11.7 m2/h (540 × 1080 dpi, 4 kleuren).
De CJV30 print tot 1440 dpi met behulp van drie verschillende druppel groottes. Verfijnde, fraaie beelden zijn het resultaat, ook in 4-kleurenmode.
---
Automatisch schakelen van printen naar snijden met de Automatic Media Clamp function

De nieuw ontwikkelde Automatic Media Clamp functie zorgt ervoor dat een grote reeks materialen optimaal wordt vastgezet voor onbemand printen en snijden. De RIP-software maakt de instellingen en kan deze automatisch aanpassen aan het gebruikte materiaal.
Printen vereist meerdere rolklemmen om het materiaal precies vast te zetten, terwijl bij het snijden twee rolklemmen nodig zijn (breder materiaal vereist er 3). De druk voor elke rolklem kan met behulp van de RIP en het bedieningsmenu in vier stappen worden ingesteld (strong, medium, los en uit) en automatisch worden gewisseld, afhankelijk van het type materiaal dat wordt behandeld. Deze functie sluit menselijke fouten uit en staat garant voor een lange en continue werking zonder handmatige interventie.
---
Uitgebreide snij opties
Zeer precies contoursnijden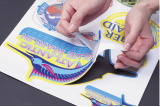 Voor het zeer precies contoursnijden van stickers, labels, etc. is de CJV30 uitgerust met de Crop Mark Detectie functie. Deze functie bestaat uit een electronische sensor op de snijkop die registratiepunten op de media herkent en zo precies om het beeld heen kan snijden. Zelfs met gelamineerde prints kan contoursnijden met grote precisie worden uitgevoerd.
Mimaki's Half-Cut functie
Mimaki's Half-Cut functie produceert een reeks van half- en die- cuts, waardoor de sticker/label niet op de vloer valt, maar vast blijft zitten in de media. Na het snijden kunnen de beelden gemakkelijk uit de media worden gedrukt, of de klant ontvangt de compleet geprint en gesneden rol.
---
Two solvent inkten beschikbaar
SS21 solvent inkt


De CJV30 serie gebruikt sneldrogende SS21 solvent inkt, waardoor het contoursnijden direct na het printen kan plaatsvinden zonder dat de inkt beschadigt.
Voor transparante en gekleurde substraten is witte inkt beschikbaar. Het simultaan printen van kleuren en witte inkt zorgt voor fraaie printresultaten voor transparante en gekleurde substraten, maar ook voor nog intensere
afdrukken van full colour prints.
---
Automatisch continue printen (Uninterrupted Ink Supply System)
Zodra een inktcartridge op raakt, begint een tweede cartridge automatisch met de toevoer van inkt, waardoor lange tijd ('s nachts) doorgeprint kan worden. Bovendien kunnen inktcartridges tijdens het printen vervangen worden. De UISS functie kan worden gebruikt in combinatie met 4 kleuren (CMYK).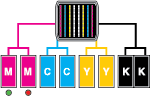 ---
Gebruiksvriendelijke software inbegrepen
Drie software paketten worden bij de machine geleverd. Van RIP software tot snijsoftware, de software beantwoordt aan alle professionele eisen en verwachtingen voor de meest uiteenlopende toepassingen.
Downloads
Downloads van de CJV30 Series
Klik op onderstaande download button om de brochure te downloaden.
---

Media
FAQ
Veelgestelde vragen van de CJV30 Serie