TS5-1600AMF
TS5 -1600AMF Sublimatie transfer printer
Mimaki's sublimatie transfer printers bieden printbedrijven grote creatieve mogelijkheden voor de soft sign en (sport)kleding markt. Na het printen op transfer papier wordt de print door middel van een hittepers of kalander aangebracht op een polyester media. Mimaki biedt modellen vanaf 1 meter breed (TPC-1000) tot 3 meter 20 (JV5-320).
TS5-1600AMF delivers •••
Ongelooflijke snelheden voor direct leveren (tot 58 m2/h)
Continue onbemand printen met UISS (Uninterrupted Ink Supply System) en MBIS (Mimaki Bulk Ink System)
Sneldrogende hoogwaardige sublimatie inkt (4 en 6 kleuren)
Het AMF systeem uitgerust op de TS5 kan zware rollen transfer papier aan tot 130kg. Ook zorgt het systeem voor zeer gelijkmatige doorvoer van (dun) transfer papier.



Applications
Specificaties
Specificaties van de TS5-1600AMF
Item
TS5-1600 AMF
Print head
On-demand Piezo head
(array of 4 staggered print heads)
Maximum print width
1,620 mm (63.7″)
Printing resolutions
540 dpi, 720 dpi, 1440 dpi
Ink type
Dye sublimation ink: Sb51 ink, Sb52 ink
Ink capacity
4-colour mode: 440 cc cartridge x 4/colour, 1760 cc/colour
6-colour mode: 440 cc cartridge x 2/colour, 880 cc/colour
(M, BL: 440 cc cartridge x 4/colour, 1760 cc/colour)
*with the bulk ink system TS5-1600AMF can hold up to 8 x 2L bags (4 colours)
Media Size
Maximum 1,630 mm (64.1″)
Roll weight
Less than 38 kg (83 lbs.)
Roll inside diameter
76 mm (3″)
Media heater
3 way intelligent heater (pre/print/post)
Nozzle checking unit
Laser system (class 1 or below)
Interface
USB 2.0
Power consumption
3,600 VA or below
Dimensions (w x d x h)
3,120 x 850 x 1,540 mm (122.9″ x 33.5″ x 60.7″)
Weight
Less than 398 kg (877 lbs.)
Eigenschappen
Eigenschappen of TS5-1600AMF
Unattended continuous printing
Continu onbemand en overnacht printen
Met het Uninterrupted Ink Supply System (UISS) kunnen printbedrijven continu onbemand printen in 4-kleuren mode. Wanneer een van de twee cartridges leeg is, schakelt het systeem automatisch over naar de tweede cartridge. Het is mogelijk om maar liefst tot 90 meter te printen zonder het wisselen van cartridges. Handig is verder dat cartridges tijdens het printen gewisseld kunnen worden.
---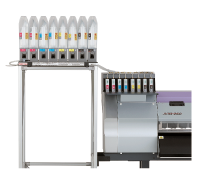 Mimaki Bulk Ink System (MBIS) – optional
Voor een verdere reductie van de kosten en toename van productiecapaciteit biedt Mimaki een hoogwaardig Bulk Inkt Systeem.
---
Advanced Features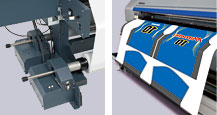 Sterk media opwindsysteem
Het sterke AMF systeem (TS5) kan zware rollen aan tot 130kg en zorgt voor een gelijkmatige doorvoer van de media tijdens het printen.
Head height adjustment to prevent head strikes
The head height can be adjusted up to 7mm. This prevents the print heads from coming into contact with the media that can deform due to high ink density.
Automatic Nozzle Checking
The automatic nozzle failure detection monitors the ink-discharging state from the print head and detects and cleans clogged nozzles.
Automatic Media Feeder
The TS5-1600AMF is equipped with a feeding and take-up system (AMF) that enables smooth media handling for heavy rolls of transfer paper and thin and flimsy media up to 38 kg.
Drying fan for faster drying
The drying fan enables fast media take-up, even when printing at high speed.
Software
Met de gebruiksvriendelijke en complete RasterLink RIP software haalt u het meeste uit de TS5-1600AMF.
Downloads
Downloads van de TS5-1600AMF
Klik op onderstaande download button om de brochure te downloaden.

---

Media