TS3-1600
TS3-1600; Sublimatie transfer Printer op Hoge Snelheid en Continue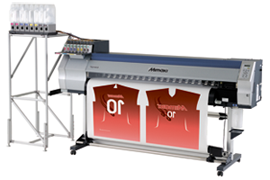 De Mimaki TS3-1600 sublimatie transfer printer biedt een uitstekende prijs-kwaliteitverhouding en een groot creatief potentieel. Het is vooral geschikt voor gepersonaliseerde en on-demand opdrachten voor kleding, zoals sport-en badmode, werkkleding, jassen, sjaals, dassen, en wooninrichting stoffen zoals gordijnen.
TS3-1600 delivers •••
Het instellen van de printkop voorkomt storingen van kop als gevolg van het bobbelen van het transfer papier
Continu afdrukken met UISS (Uninterrupted Ink Supply System)
Nieuwe inkt met hoge dichtheid, briljante sublimatie transfers en originele RIP
Uitstekende prijs-kwaliteitverhouding geschikt voor het starten van een on-demand print business
Nieuwe hoge dichtheid met een briljante dye sublimation inkt: Sb52



Toepassingen
Specificaties
Specificaties van de TS3-1600
Print head
On-demand Piezo head (180 nozzles x 8 lines x 1 head)
Maximum print width
1,610 mm
Print resolution
540, 720, 1440 dpi
Print speed
12.3 sqm/h (4 colours, 540 x 1080 dpi, 6 pass, bi-directional)
6.3 sqm/h (6 colours, 540 x 1080 dpi, 12 pass, bi-directional)
Ink type
Dye sublimation ink (Sb52 ink)
Sublimation transfer ink (Sb53)
Ink supply system
4-colour mode : 440 cc cartridge x 2/colour, 880 cc/colour
6-colour mode : 440 cc cartridge x 1/colour, 440 cc/colour
*with the bulk ink system TS3-1600 can hold up to 8 x 2L bags (4 colours)
Media
Width : Up to 1,620mm
Weight : Up to 25 kg
Inside roll diameter : 2-3 inch
Drying device
3 way intelligent heater (Pre/Print/After), ventilation fan unit, drying fan heater
Media take up device
Roll take-up device, inside/outside selectable
Interface
USB 2.0
Power specifications
AC 100V to 120V ± 10%, AC 220V to 240V ± 10% , 50/60 Hz ± 1 Hz
Power consumption
1,440 VA or below
Dimensions (w x d x h)
2,538 x 739 x 1,424 mm
Weight
160 kg
Eigenschappen
Eigenschappen van de TS3-1600
Hoge printkwaliteit en hoge printsnelheden
Een nieuw ontwikkelde high speed printkop met 180 nozzels x 8 lijnen leveren hoge snelheid prints en tegelijkertijd een hoge printkwaliteit. Print kwaliteit in 4-kleuren 'bidirectional mode' is ook verbeterd als de "symmetric ink arrangement" wordt gebruikt.

---
onbeheerd continue printen
Uninterrupted Ink Supply System (UISS)
De UISS zorgt voor continu printen in 4-kleuren modus. Wanneer een inktcartridge leeg raakt, start een andere cartridge van dezelfde kleur met het leveren van inkt. Inktpatronen kunnen worden gewijzigd tijdens het printen.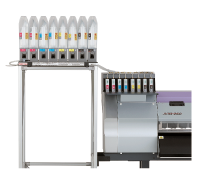 Mimaki Bulk Ink System (MBIS) – optioneel
Het bulk inkt systeem is een eco-vriendelijke inktsysteem dat minder afval produceert tijdens het continu printen. Het systeem maakt gebruik van 2-liter inkt verpakkingen en realiseert zo een stabiel en betrouwbaar inkt productie met alleen cartridges. Het is mogelijk om zowel 2-liter inkt packs te gebruiken in combinatie met standaard 220/440cc cartridges.
---
Kop hoogte aanpassing om storingen van de koppen te voorkomen
De kop hoogte kan worden ingesteld in drie stappen van 2 mm tot 5 mm afhankelijk van de dikte van de gebruikte media
Automatische drogen om de droog snelheid te verhogen (optioneel)
Droogsnelheid wordt verbeterd door het gebruik van een na-verwarming en optionele drogers. Dit opzetstuk kan zelfs worden gebruikt bij het printen op hoge snelheid.
Downloads
Downloads van de TS3-1600
Klik op onderstaande download button om de brochure te downloaden.

---

Media