[wptabs style="wpui-narrow" mode="horizontal"]
[wptabtitle]SIJ-320UV[/wptabtitle]
[wptabcontent]
High performance grand format LED UV inkjet printer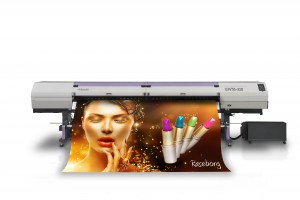 The all new Mimaki SIJ-320UV grand format LED UV inkjet printer delivers a unique combination of high quality super wide output for volume production of banners, retail, exhibition and window graphics and other similar applications up to 3.2m wide, with the added versatility of twin-roll simultaneous printing. The SIJ-320UV is specifically available to non-European Union countries.
SIJ-320UV delivers • • •
Super wide format printing (up to 3.2m)
High speed printing up to 110m2/h
Newly developed LUS-120 high performance UV curing ink
High density print mode for front/backlit applications
MAPS, MFD, NCU & NRS for optimal print quality & performance
Simultaneous twin-roll print facility
Media roll weights up to 100kg
[/wptabcontent]
[wptabtitle]Applications[/wptabtitle]
[wptabcontent]
Applications of SIJ-320UV
Indoor and outdoor signage
Exhibition
Display and window graphics
Front and backlit signage
Retail PoS
and much more…
[/wptabcontent]
[wptabtitle] Specifications[/wptabtitle]
[wptabcontent]
Specifications, options and supplies of SIJ-320UV
Specifications
Item
SIJ-320UV
Head
On-demand piezo head (4 staggered printheads)
Print resolution
300dpi, 600dpi, and 900dpi
Ink droplet size
Minimum: 7pl   Maximum: 36pl
Head gap (Manual adjustment)
1.7mm / 1.9mm / 2.6mm / 3.3mm (Distance between the platen and the print head)
Ink
Type
LED-UV ink  LUS-120
Colour
C, M, Y, K
Packaging
1 litre ink bottle, Ink can be filled up to 3 litres per ink colour.
Maximum print width
3,200mm
Maximum media width
3,250mm (Twin rolls printing with a small drive shaft: 1,524mm × 2)

Minimum media width
210mm
Media thickness
1.0mm or less
Roll outer diameter
Large drive shafts: Φ250mm or less. Small drive shaft with roll holders: Φ180mm or less.
Roll weight
Large drive shafts: 100kg or less. Small drive shaft with roll holders: 25kg or less
Dimensions (W × D × H)
5,410mm × 995mm × 1,440mm
Shipping dimensions (W × D × H)
5,750mm × 1,140mm × 1,210mm
Weight
850kg
Power supply
AC 200 – 240V ± 10%   50/60 Hz ± 1 Hz, 15 A or less
Power consumption
3.6kW or less
Operational environment
Temperature
20 – 30 °C (68 – 86 °F)

Humidity
35 – 65%Rh (No condensing)

Temperature accuracy
20 – 25 °C (68 – 77 °F)
Temperature gradient
Less than ± 10 °C/h (± 18 °F/h)
Dust
0.15mg/m3 (Equivalent to normal office level)
Supplies
Item
Colour
Item No.
Remarks
LED-UV Ink

LUS-120

Cyan
LU12-C-BA
1L ink bottle
Magenta
LU12-M-BA
Yellow
LU12-Y-BA
Black
LU12-B-BA
[wptabtitle] Features[/wptabtitle] [wptabcontent]
Features of SIJ-320UV
Efficient and Versatile Twin-Roll Simultaneous Printing
Taking advantage of the 3,200mm printing width, two media rolls can be mounted for simultaneous printing. Different print jobs (or the same print job) can be printed on two separate rolls. The user can select the preferred width separately for each roll, within a specified range (210 to 1,524mm).
---
Prevention of print quality problems – NCU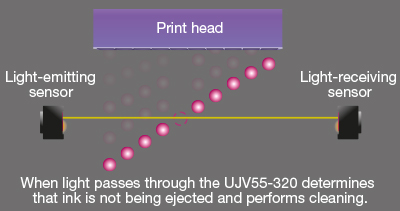 The SIJ-320UV is equipped with Mimaki's original automatic NCU. Clogged nozzles are automatically detected and cleaned by the NCU. If the clogging is not resolved by cleaning, the SIJ-320UV automatically sets the nozzle recovery function NRS and resumes printing. These functions significantly reduce the waste printing caused by clogged nozzles during a continuous printing run.
---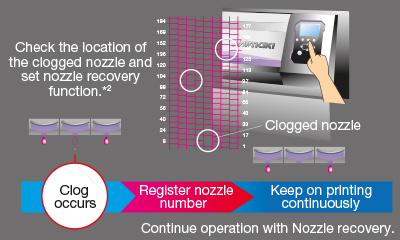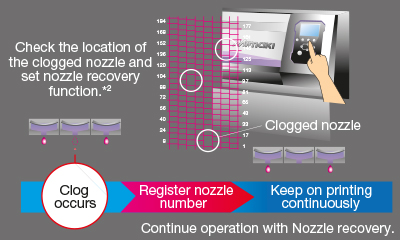 Productivity maintenance – NRS
The NRS substitutes defective nozzles with non-defective nozzles until the technician arrives. This feature enables uninterrupted print operations and continuous productivity.
---
Beautiful output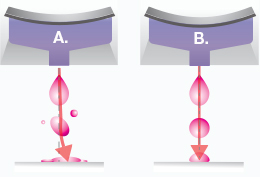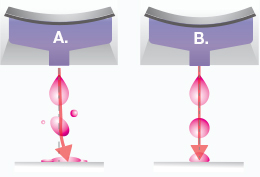 Waveform Control Technology
Ensures high quality print resolution, by jetting ink drops in straight lines with almost perfect round dots, delivering clear and sharp letters, lines and edges.
Figure A. Without waveform control
Ink droplets jetted in the shape of deformed circles
Figure B. With waveform control
Ink droplets jetted in the shape of nearly perfect circles
Superior inkjet technology
Delivers high density print by removing the gap between dots.
MAPS (Mimaki Advanced Pass System)



Reduces banding by dispersing ink drops between passes.
---
High Print Speed
Print Speed
Super-draft mode allows rapid printing at a maximum printing speed of 110m2/h. High-density print mode is available for front/backlit signage applications.
Click on the image for details.
---
Sophisticated RIP software maximizes the performance of SIJ-320UV
Rasterlink 6 Software




New image-processing technique reduces tone jumps and uneven colour printing
Mimaki Fine Diffusion 1 (MFD1) has been recently added to the bundled RasterLink6 RIP software. MFD1 reduces the noise that is generated in image data during image processing and enables the production of better print results without tone jumps or uneven colours.
[/wptabcontent]
[wptabtitle]Downloads[/wptabtitle] [wptabcontent]
Downloads of SIJ-320UV
Please download the Mimaki SIJ-320UV brochure below.
[/wptabcontent]
[wptabtitle]Images[/wptabtitle] [wptabcontent]
Product images of the SIJ-320UV
[/wptabcontent]
[/wptabs]